Getting people
involved
in Change

Getting people
involved
in Change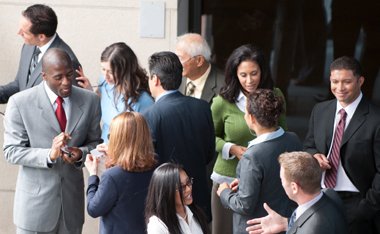 The consulting business is about problem solving and developing new solutions.
A proven method like
Issue Based Consulting
will help you to develop great solutions. Solutions however will only be effective if the people of your target group will use them. What they do, how they act, what they believe and how they behave has to change in a certain way. Issue Based Consulting might help you to develop a great solution, but it doesn't make any sense if the target group doesn't change, This is why we have to get them involved in Change. They have to believe the solution is the right one. They have to like it. They must feel the need and really want to change towards the solution themselves. Mostly this doesn't happen.
That is why we also developed effective methods for
Storytelling
and
Management of Change
.
The Consulting Led Selling
approach combines all of them in one integrated approach. You can read more about these topics on our website.
Answering the question "How to get people involved in Change" is not an easy one. It starts with the profound belief they have to be involved. You cannot consult effectively without it. With our
Change Performance Monitor
(CPM) we can even measure if people are involved in Change. CPM also tells us why they are, or are not involved and what needs to be done to improve this. The answer tends to be specific for a given situation and a given organisation. We do see 3 generic elements. People must be aware the Change is essential. They must see an advantage for their own work or own position and they must be able to execute the change.
Change readiness in 4 steps
Worship the past: Most change programs focus on what has to change and what the end-goal is. We tend to skip an important step. Acknowledge what people have achieved so far and respect it. Letting go of the past is a crucial first step, before people can focus on something new. Make sure people are OK with letting go first.
Develop a vision: How will the future be different from the past. What exactly has to change, but also what will not change. This will help people to focus on the new goals.
Be creative: After letting go of the past, people are ready to think about the future. Support your people to think freely and develop new ideas. Give them space and the ability to experiment. Accept that Change might take time. Real Change and creativity cannot be forced.
Anchor your changes: Make sure you cannot go back. People love their habits. Even if they think the change is a good idea and rationally they support it, biology is stronger than psychology. We will stick to our old habits as soon as we go back to the normal state, business as usual.
If you like to get more information, please feel free to
contact us