Training:
Change Management
Training:
Change management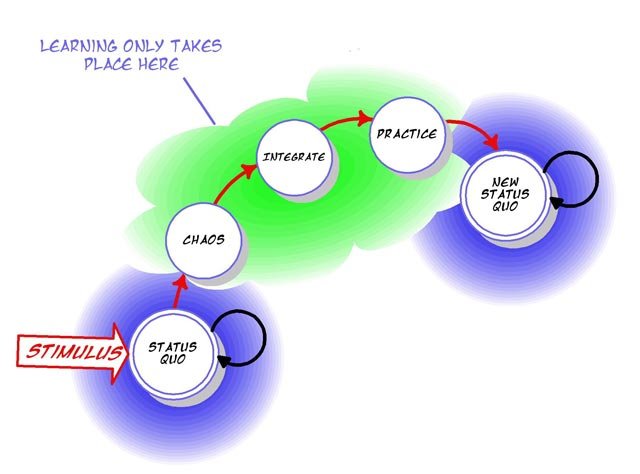 Change Management
The training Management of Change deals with all concepts, models and tools on Management of Change that are published and accepted the last few decades. The training offers an overview of all these concepts and how to apply them in your daily work. To learn this you will be trained to evaluate situations and apply the appropriate concept. During the training there is sufficient time available to discuss these topics with the trainer and the other participants and bring in your own case examples. Although you will learn a lot of theory, due to the set-up the training will be very practical.
The training is based on the APMG Change Management
certification path and the trainer is a certified AMPG Change Management Practitioner with a broad experience as a change consultant and change manager.
By applying what you have learned:


You are able to analyse and evaluate the organization and it's current situation in the right perspective regarding Change
You are able to distinguish many different change metaphors and approaches available and select the right approach for your situation
You are able to manage individual change, team change and organizational change effectively by applying the right concepts
You will be a subject matter expert on Management of Change, because you master all Change idea's and concepts published for the last 50 years
Concepts and skills we learn:
Learning styles
Individual Change
The behavioral, cognitive, psychodynamic and humanistic approach to Change
Team Change
Type of organizational teams and how to improve team effectiveness
Leaderships issues in teams
Myers Briggs Type Indicator (MBTI)
Organizational Change
Organizational metaphors
Models of Organizational Change
Leading Change
Leadership styles
Management versus Leadership
The role of the Change Agent
Cultural Change
During the course you will learn and apply the theories of:

Douglas McGregor, Frederick Herzberg, Pavlov, Ellis and Grieger (RET, Aaron Beck, Milton Rokeach, Richard Bandler and John Grinder (NLP, Cameron & Green, Kubler-Ross, Adams, Hayes and Hopsons, Virginia Satir, Gerard Weinberg, Maslov, Rogers, Fritz Perls (Gestalt), Nevis, Myers Briggs, Schein, Lewin, Schein & Benis, Morgan et al, Sundstrom et al, Cohen and Bailey, Casey, Rollin and Christine Glaser, Tuckman, Ralph Stacey, Bion, McCaully, Whelan-Berry and Gordon, Morgan, Bullock and Batten, John P. Kotter, Beckhard and Harris, Nadler and Tushman, Willam Bridges, Carnall, Senge, Stacey and Shaw, Waren Bennis, and many others.
Audience:
The methodology and related training are focused on a bachelor or academic level audience with at least 5 years of relevant working experience.
All managers, interim managers and consultants dealing with organizational change
Project managers involved in Change Programs, including software or process implementation projects
Change agents involved in the implementation of Change to support the organization
Our training offer:
Contact us
for your customized In-Company training offer. Or look at our
Calendar
for an open course in your area.
Register for this training: