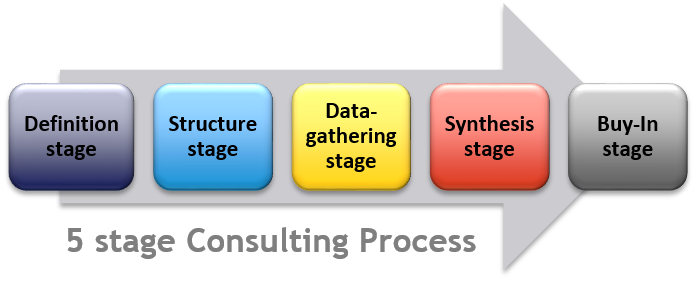 Successful organizations are developing and changing constantly. Internally they have to change and adapt to solve internal problems and issues. But also adapting to new market conditions and customers demands requires a constant cycle of Plan-Do-Check-Act.(Deming Circle)
The focus of Consulting Methodology is to improve this cycle and deliver methods and tools to go from initial problem or challenge to solutions that lead to improvement. That is quite a job, so a good structured and proven approach will certainly help.
Lets look at the total process from "Problem to Improvement" and which methods or tools are applicable here.
In case of new challenges being assignments from customers it all starts with sales. The sales process or sales function is responsible to identify new markets, new clients and create leads. Sales is responsible for the first contact with new customers. It doesn't stop there, getting new customers is one thing, keeping them is another. Sales is also responsible for relationship management, client management or account management. We could summarize this with the term Customer Relationship Management (CRM)
Creating business from these customers is the next step. Now it depends on what you sell. Is it a product or well defined service, what you could sell from a brochure, this is also considered sales in our opinion. If it is a complex product or service, or the product or service cannot be defined yet, a considerable amount of

consulting

is needed. This is where Consulting Led Selling (or Consultative Selling) could be applied.
In this case we first have to get a better understanding of the customer and his wants and needs. We have to analyse his situation and define the problems, the barriers and the goals for this customer. The next step is identify or create possible solutions for this customer. This could be one or more out-of-the-box products or services or a totally new solution that still has to be developed. Consulting Led Selling is a mix of Sales and Consulting.
If the problem or the challenge we have to solve is complex we need to do some more

Consulting

. The most simple definition of Consulting is Problem Solving. Nowadays the problems consultants have to solve are quite complex. On top of your subject matter expertise you will need a structured problem solving approach like Issue Based Consulting to deal with this. Apart from the necessity of a structured approach, it will also speed up your work and increase the quality of your work. Both aspects are quite important to compete in this competitive market. In fact all major consulting firms do so.
Now we have defined exactly what has to be done to solve the problems or achieve the goals. It still has to be done however. This is the area of Delivery or

Project Management

. Project management  methods like PMI / PRINCE2/ IPMA support this. Still many projects fail and every Gartner or IDC study again shows us there is still a lot to be improved regarding the people aspect and Management of Change. For this we developed Pulse4Projects, an effective tool to manage this.

Management of Change

 (MOC) is an essential topic area for all consultants and anyone involved in this process as we just described it.  If you are hired by a customer to solve his problem, you can ask yourself, Why? Is it because they don't have the resources (Body Leasing), or do they just need your Subject Matter Expertise. In many cases is is because the problem is very complex (Consulting) and the other reason is because they simply can't. They can't change themselves because of  MOC aspects like fear, resistance or cultural aspects and don't know how to manage this. Can you?
Our MOC Toolbox will support you here with some methods and tools to deal with Change effectively.
Al Methods and Tools mentioned are part of the Solutions  Consulting Methodology provides. Contact us for more information or have a look at our training Offer to learn these methods and apply them yourself.